SUITES
All our suites have kitchenettes and private bathrooms. The full breakfast is included in the daily price. When the house is rented by groups, it is possible to open the kitchen / living areas for common use from 9am to 9pm. For individual reservations, the kitchens / rooms are for the exclusive use of the suite guest.
LA Terraza Suite
This one bedroom apartment has its own plant-filled terrace along with outdoor seating for two. The hand-painted tile kitchenette has many windows with a pretty view, counter seating, and a sitting area with a couch, coffee table and two chairs. Cable TV is in the living area.
There is a private bath with shower. Two twin beds can be made into a king if preferred.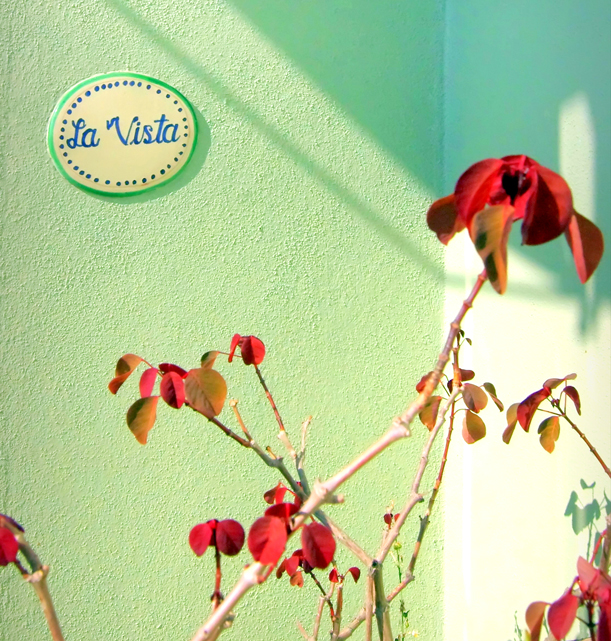 VISTA SUITE
This third story studio apartment has an open floor plan which includes a kitchenette, table and two chairs, an Equipali couch and chair, and cable TV. A closet separates the king bed (may also be 2 twins) from the main space. There is a private bath with shower. At the rear there are French doors to a second flower-filled terrace with a table and seating for two. For the view-lovers there is a steep stair to the top level terrace with 360 degree views.
MADAM'S SUITE
This one bedroom apartment has the largest living space with a couch and 2 comfortable chairs facing a large fireplace. The living space also has dining table and seating for 4 as well as a writing desk and cable TV. A talavera-tiled kitchenette has all the basics. The bedroom has a walk-in closet and private bath with shower. Twin beds easily convert to a king-size bed.
There is room for a 3rd twin size bed ($20/day surcharge) if needed.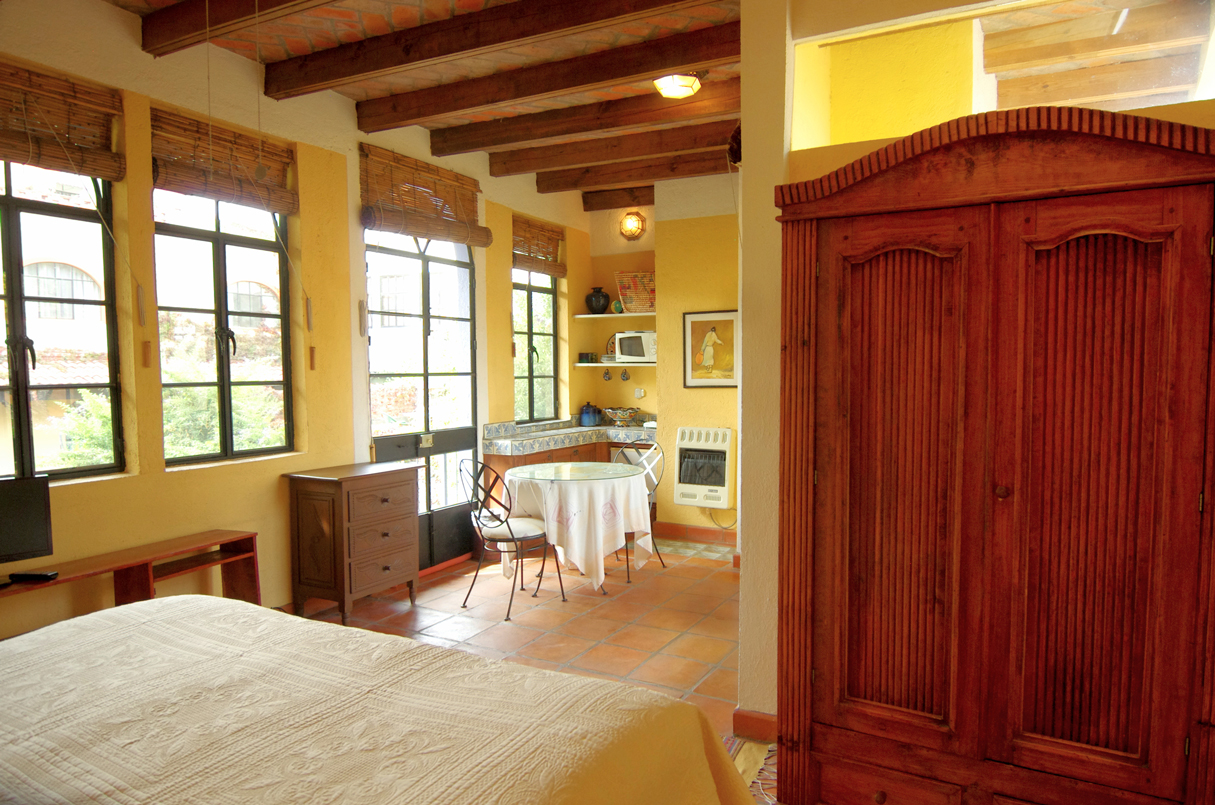 BESOS GRANDE
This apartment full of light is the largest area of the entire house. It has two rooms (Kiss me Again with king size bed and First Kiss with queen size bed). Each room has a private bathroom (one with a tub). Additionally, the Besos Grande Suite includes a large living area with fireplace and a full open kitchen. There is a shared terrace just outside the front door. Besos Grande overlooks the main courtyard fountain. This space can be rented as a luxury suite with capacity for 4 people and extra space in the living room (sofa-bed) or individually as two private luxury rooms, sharing the living room area and kitchen with other guests.
Paloma Loft
The Paloma Loft Suite is on the second floor of the Besitos Garden complex and has a balcony overlooking the garden courtyard. In addition to a small bath with shower, it also has a mini-kitchen and access to an open terrace and enclosed atelier. The Paloma can be rented with two twin beds or one king size bed. This room connects to the open air meeting space which can be used for art, yoga, dance or other workshops.